[Interview] Caroline Arnould – LCL CityStore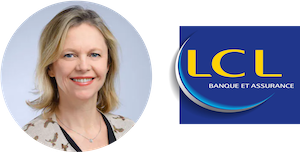 In late 2015, LCL was a pioneer in the field of bank cashback. It was the first French retail bank to adopt a CLO model (Card-Linked Offer) with the launch of Avantage + cashback program. In 2019, based on lessons learned from its initial foray into the field, LCL revised its goals upward, optimized its CLO platform, and launched a new program named "CityStore".
Can you summarize the main objective of the CityStore program?
In keeping with our tagline, "Ma vie, Ma ville, Ma banque" LCL CityStore showcases local retail businesses. The CLO solution satisfies dual objectives: first, it brings value to our cardholder-customers by rewarding in-store and online purchases, and second, it supports local retail businesses (small, medium, and large partner merchants) by increasing sales. The LCL Mes Comptes app displays all available partner merchant cashback offers by category and location and contributes to improve the user experience.
What are the main advantages of using CDLK's CLO platform?
CDLK's CLO platform combines performance, reliability, and scalability.
Performance allows us to keep up with our current membership base of several million cardholders who can access thousands of cashback offers daily. With the potential for so many permutations, LCL must ensure that the interface is simple and seamless, both for the LCL cardholder and partner merchants, as well as for the business teams in charge of managing this rewards program, which is automatically linked to our bank card system.
Reliability is essential to creating trust in a program where we collect the "cashback" from our merchant partners and pay it to the corresponding customer. The aim is to rigorously track cashback expenses and then be able to respond to merchant and customer requests for verification. It is also a matter of producing key performance indicators (KPIs) for campaign follow-up in order to build lasting and measurable relationships with merchants.
Scalability allows us to adapt our value proposition to evolving market expectations, such as designing personalized cashback offers that vary according to a member's status, which will typically differ from merchant to merchant. This is often a prerequisite for working effectively with major retailers.
What can you say about the partnership between CDLK and LCL?
It's an innovative relationship. Our partnership is hybrid by nature and two-fold. It covers aspects related to the proper technical functioning of CityStore's platform, as well as aspects related to the daily operational management of the marketing program on the business side. At LCL, we remain focused on continuing our flexible and collaborative teamwork with CDLK and ramping up CityStore at a steady pace in order to maintain our competitive advantage in the market.
CAROLINE ARNOULD,
LCL CityStore Development Director